I had a couple of pistols in the shop recently exhibiting the same problem. The breech faces were over-cut (too high). The cartridge, or more importantly, the empty could move so far up the breech face that the ejector had no shot at it.
Notice the position of the slide in relation to the grip in this next photo. The cartridge has passed over the ejector and is still in place. This is easy to check. With the slide off the frame (no barrel installed) push a round as far up the breech face as it will go. The extractor will (or should) hold it in place as you reinstall the slide on the frame. Push the slide back until the ejector is exposed. The cartridge should be knocked off the extractor as it passes the ejector.
Even in the best of circumstances, there is a remarkably small edge of brass exposed by the ejector slot in the slide for the ejector to strike. The yellow line in the ejector slot of the next photo will lead your eye to the edge of the case rim. It's easy to see there's virtually no way for the ejector to get a hit on it with the case in this position.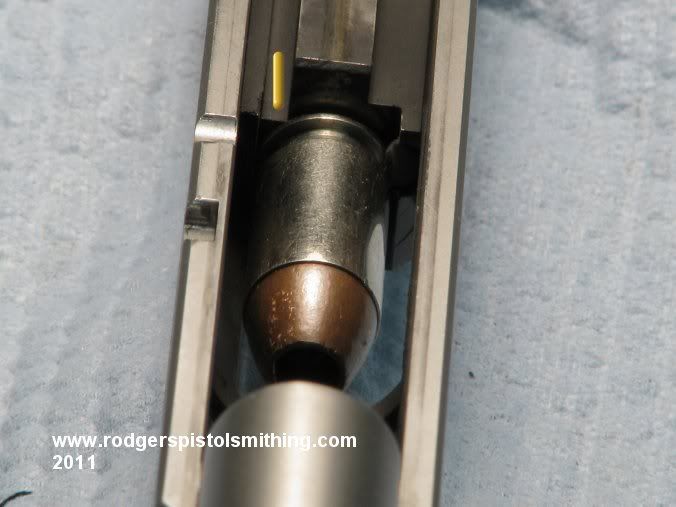 An over-cut breech face combined with a poorly fit (short and narrow) ejector is a malfunction (failure to eject) waiting to happen. The next photo shows a poorly fitting ejector piercing the breech face. Compare the ejector position in this photo to the amount of exposed brass in the photo above and you can see the wreck waiting to happen. The yellow lines indicate the area of concern.
Same area from the rear of the slide.
A failure to eject would be a random event and perhaps occur only once every few hundred rounds, but believe me, if it
can
happen, eventually it
will
happen. Chances are it will be passed off as "just one of those things," but the condition is unacceptable to me and can be corrected. I view it as another step in the process of making a gun totally reliable, and that's what our clients depend on and pay us for. Here are photos of a couple of ejectors I removed from customer guns. These look like they were DESIGNED to fail. The yellow lines point to edge bevels....that are in the worst possible place, the critical corner.
Government ejector, fit by a gorilla with a round file:
Commander:
The cure? Remachine the ejector slot in the slide moving it higher up the breech face AND closer to the center line. Fit a new ejector that will fill these these new dimensions. Here's one I just completed: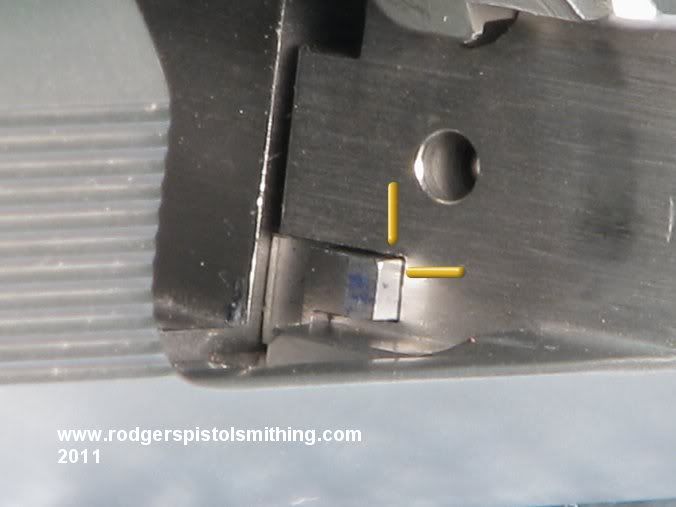 A brass smear on the top surface of your ejector after a malfunction is proof positive that you've just been bitten by this bug.